The Ghost Camper's Tall Tales
Destiny Falls Mystery & Magic series – Book 3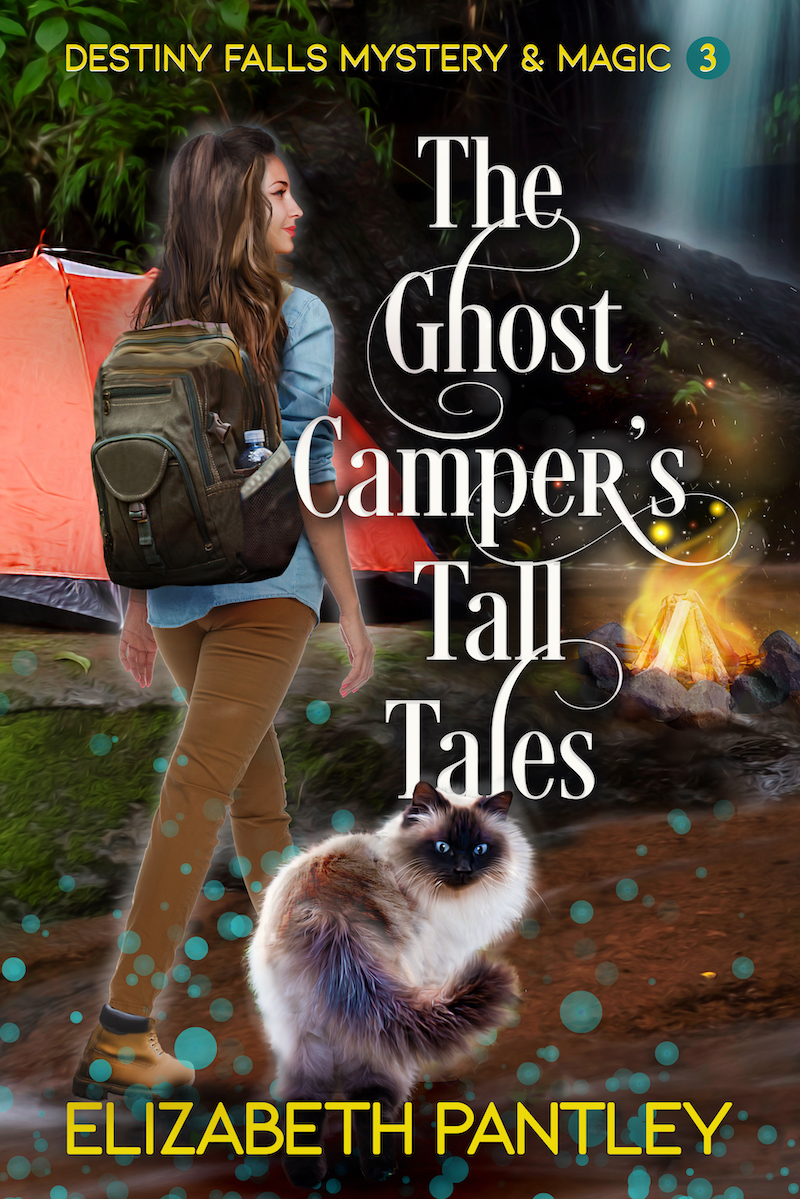 ---
"A magical delightful tale."
~ Dru Ann, Dru's Book Musings
"I had a fun time reading this one."
~ Lola, Lola's Reviews
"A captivating read! I couldn't put it down."
~ Linda C., Goodreads
"I felt transported to Destiny Falls…now that I've finished, I miss it already."
~ Julie, One Book More
"A mix of unique characters, romance, mystery and magic."
~ Charlene Q. Goodreads
"Really stretched my imagination!"
~ Betty, Reading is my Passion
"Just when I thought I knew who the killer was, BAM, a twist."
~ Leslie, Storeybook Reviews
"Generously seasoned with sass, class, and a dose of spunk. Delish!"
~ Pages & Paws
"Funny, fluffy, far-fetched and fabulous!"
~ Elza Reads
Welcome to Destiny Falls
Hayden's adventures in Destiny Falls continue in Book 3, when a mysterious old man shows up to tell her a series of tall tales. Who is he? And are his stories fiction? Or are they the history of her family, the islands, and the witch? And why does he glow? Can he provide the information she needs to understand herself and free her mother? And why did a dead body show up . . . of someone who is already dead?
The Ghost Camper's Tall Tales is a full-length magical cozy mystery novel with a touch of humor and a hint of romance. It is the second book in the Destiny Falls Mystery & Magic series.
BOOK EXCERPT:
The Ghost Camper's Tall Tales
Destiny Falls Mystery & Magic series – Book 3
Chapter 1
It had taken a week, but finally I had memorized my long-lost mother's letter. Now I was struggling to get a fire started in my fireplace in which to burn it. It hurt my heart to give up something so precious to me, but there was no other option. Now, if the dang logs would just ignite!
I rearranged the logs, and finally, after three false starts, I had a nice blaze going. I decided to recite the letter one more time before giving it up to the flames.
"Oh, goodie! Another reciting of the mysterious letter!" Latifa said. Not only did my cat's comment enter my head, but her joy was evident in the tone of her voice.
"How do you know that? Is it one of your telepathy skills?" I asked her.
"Nothing so mysterious. You always cough twice before you begin. I thought it was part of the introduction. Cough. Cough. My darling daughter, Hayden . . ."
"Ah. Well then. Relax, sit back, and enjoy the show."
She took my instructions literally. She jumped up on the bed, planted her ample behind on my pillow, and shifted her body this way and that until she was perfectly comfortable. Latifa leaned back against the headboard and looked like a furry, laughing Buddha.
I stared into the flames and took in a breath. It had taken forever to memorize this. Not just because it was a long letter, but because of the lifetime of emotions it stirred to the surface.
I cleared my throat. Cough. Cough. I gave Latifa the side-eye, and she wiped the smirk off her face.
---